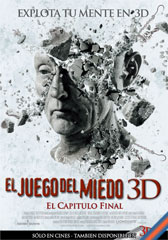 El juego del miedo 7 se estrenó el viernes pasado y logró el primer lugar de las boleterías de los Estados Unidos, recaudando unos 24.2 millones de dólares.
El supuesto final de la saga tuvo un promedio de 8.013 dólares por cine.
Esta apertura estuvo por debajo de lo que lograron varias, y solo superó a la primera y sexta…
Es para destacar que el costo informado de producción es de "solo" 20 millones, por lo que si quisieran podrían seguir matando y cortando gente!
Actividad paranormal 2 se quedó en el 2° lugar, con una gran caida en recaudación con respecto a la primer semana, pero llegando a unos muy buenos 65 millones acumulados.
Para destacar en el 4° lugar a Jackass 3D que superó los 100 millones de dólares.
1. "Saw 3D," $24.2 million.
2. "Paranormal Activity 2," $16.5 million.
3. "Red," $10.8 million.
4. "Jackass 3D," $8.4 million.
5. "Hereafter," $6.3 million.
6. "Secretariat," $5.1 million.
7. "The Social Network," $4.7 million.
8. "Life as We Know It," $4 million.
9. "The Town," $2 million.
10. "Conviction," $1.8 million.
Hay una película con Kristen Stewart que me consultaron si se estrenará acá, que se llama Welcome to the Rileys, pero viendo que estrenó de manera limitada en 10 salas y solo recaudó 45.000 dólares, lo veo super dudoso. La acompaña James Gandolfini.